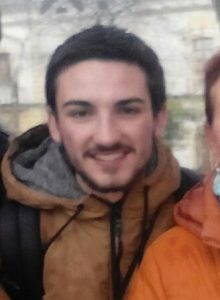 HAESE LOUIS.  French Professional Baccalaureate at Les Compagnons du Devoir, Île de France
COMPANY: «All went well,  very good company». ACCOMMODATION AND MEALS «very nice family and very good meals». THE PROFESSIONAL VISITS «very interesting» PRACTICAL INFORMATION «Good visits of the city and good explanations«. THE AVAILABILITY OF ECLAC «Always available, very present». Yes, I will RECOMMEND THE ECLAC SERVICES «because everything is done so that it all goes well». «Yes, I have always felt very well supervised and monitored,  both at the company and by the intermediary organization.» «Always good advice, everything is made for us to have a good stay.
---
---
*ENTREPRISE : "Très bien, très bonne entreprise". * l'HEBERGEMENT ET LES REPAS, "très gentille et très bien". *LES VISITES TECHNIQUES "très intéressantes" *L'INFORMATION PRATIQUE "Bonne visite de la ville et bonnes explications".  *LA DISPONIBILITÉ D'ECLAC "Toujours disponible, très présente". * Oui, je RECOMMANDERAIS LES SERVICES DE ECLAC "car tout est fait pour que ça se passe bien". *ENCADREMENT: "oui, je me suis toujours sentí bien encadré aussi bien à l'entreprise que par l'organisme intermédiaire." *"Toujours de bons conseils, tout est fait pour nous permettre de passer un bon séjour".
---
---
*EMPRESA: «Muy bien, muy buena empresa». *El ALOJAMIENTO  y las COMIDAS «familia muy agradable et comidas buenas.» *VISITAS TÉCNICAS «muy interesantes». * INFORMACIÓN PRÁCTICA «Buena, me permitieron un buen recorrido por la ciudad y buenas explicaciones.» * LA DISPONIBILIDAD DE ECLAC «Siempre disponible, muy presente.» *Sí, RECOMIENDO los servicios de ECLAC «porque hacen todo lo posible para que todo salga bien».* APOYO y RESPALDO «Sí, siempre  bien apoyado tanto en la empresa como a través de la organización.» *»Siempre un buen consejo, todo está hecho para que podamos tener una buena estancia.»