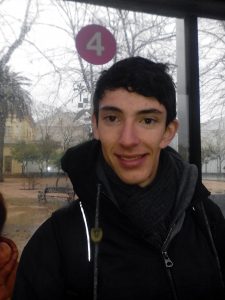 KLUGMAN LUDOVIC. French Professional Baccaulaureate at Les Compagnons Île de France.
*COMPANY: «Very good». * ACCOMMODATION AND MEALS, «Great accommodation except for meals». * THE TECHNICAL VISITS «super interesting» * PRACTICAL INFORMATION «we have had excellent information on all subjects». * THE AVAILABILITY OF ECLAC «Yes, always there». * Yes, I would RECOMMEND THE SERVICES OF ECLAC «regarding the history of the city and activities, excellent». * «Yes, I was well supervised at the company and by ECLAC». Discordant note, problem of wifi at the family.
---
---
*ENTREPRISE : "Très bien". * l'HEBERGEMENT ET LES REPAS, "l'hébergement super sauf pour les repas". *LES VISITES TECHNIQUES " super intéressantes" *L'INFORMATION PRATIQUE "on a bien été guides, top".  *LA DISPONIBILITÉ D'ECLAC "Oui, toujours là". * Oui, je RECOMMANDERAIS LES SERVICES DE ECLAC "car au niveau d'histoire de la ville et activités, top". * "oui, j'ai été bien encadré dans l'entreprise  et par ECLAC". Note discordante, problème de wifi chez la famille.
---
---
* EMPRESA: «Muy bien.» * El ALOJAMIENTO  y LAS COMIDAS, «super alojamiento,  no tanto las comidas.»
*VISITAS TÉCNICAS «super interesantes»
* INFORMACION PRACTICA «muy bien asesorados, excelente». * LA DISPONIBILIDAD DE ECLAC «Sí, siempre presente.»
*Sí, yo RECOMIENDO los servicios de ECLAC «porque son excelentes en lo que se refiere a la historia de la ciudad y a las actividades propuestas. SUPER». * RESPALDO y APOYO «Sí, he estado bien apoyado en la empresa y por ECLAC.» Nota discordante, problema de wifi en la familia.